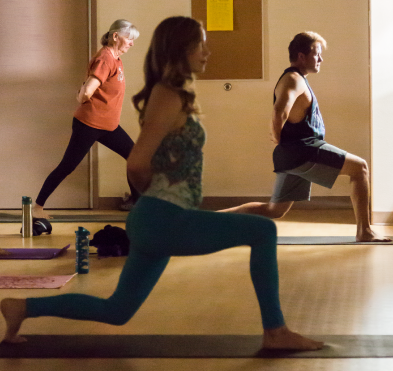 Fitness
Welcome to the Washington City Community Center, where excellence in fitness is a community affair! Discover our cutting-edge fitness facility, featuring a spacious 1,750 square feet aerobics room hosting daily classes such as YOGA, SPINNING, POWER X, HIGH FITNESS, BARRE, and more.
A team of dedicated fitness instructors, all trained and certified, is ready to guide participants of every skill level, prioritizing safety and delivering top-notch customer service. Immerse yourself in a dynamic fitness experience, where each class is an opportunity to challenge yourself and reach new heights.
Beyond the aerobics room, explore a comprehensive array of state-of-the-art cardiovascular and weight training equipment. Whether you're a seasoned gym-goer or embarking on your fitness journey, our center provides the tools you need for your personal fitness goals.
For those who prefer the rhythm of their own stride, an indoor track provides a year-round venue for walking and running enthusiasts. Rain or shine, stay committed to your fitness goals in the comfort of our indoor environment.
Join us at the Washington City Community Center, where a world of fitness possibilities awaits. Unleash your potential, embrace a healthier lifestyle, and be part of a community that values your well-being. Your journey to a fitter, happier you begins here!
Group Exercise Classes
Group exercise classes are a fun way to meet friends, reach fitness goals, and have an hour of true fitness fun. Find out more about the instructors, fitness staff, or about the classes by visiting us today!**
**Please Note that only those ages 12 and older are allowed in fitness classes.